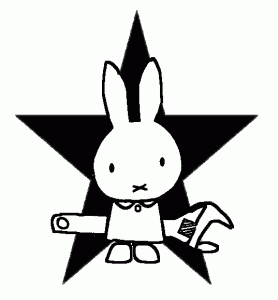 When we talk about direct action for animal liberation the first thought that comes to most peoples mind is the image of a balaclava clad activist breaking into a vivisection laboratory and rescuing the animals trapped inside. This romanticized view of direct action is not only unrealistic (only a minority of actions carried out in the name of animal liberation involve live liberations) but damaging to the growth of the movement as a whole (by limiting the realm of 'direct action' to a narrow scope of live liberations or economic sabotage we are excluding large numbers of our movement and limiting ourselves to what we can and cannot do in the name of animal liberation).
Direct action is a broad term that encompasses a  wide range of actions, both physical and non-physical, both legal and illegal, with the one defining feature being that the action be direct (i.e. it tackles the problem at the root). This is the definition of radical which comes from the Latin for 'root'. It means to grasp the problem at the root. This means addressing the issue where it arises and not asking somebody else (I.e. the Government) to solve it for us.
The term 'direct action' has become synonymous in the animal rights movement with those taking physical action. You often here people talking about how they wish they could take direct action, but can't because they are not physically or mentally up to the challenge, or cannot risk being arrested or sent to jail. To those people I say: You can take direct action! Everybody can take direct action to stop animal exploitation!
Leafleting; protesting; lock ons; communication blockades; protest camps; letter writing; talking to people; free food giveaways; street theatre; sit-ins; occupations; film screenings; hacktivism; these are all forms of direct action! If none of these seem feasible or appealing to you, then create your own form of direct action! There is no blueprint for how we will achieve animal liberation. It will require a diversity of tactics and new ideas are needed all the time. Only through our creativity and persistence can we win this battle for a better world.
When people are led to believe that they cannot participate in direct action that is when they turn to a higher authority for help. They start signing petitions; donating to charities; writing letters to their MPs or boycotting companies. They feel disempowered. Like they can't get involved in the fight for animal liberation directly. The animal rights movement has left a lot of people feeling disempowered. We need to reclaim that power! Only we – the people – can bring about the radical change in society that we seek.
There is a cult of militancy surrounding direct action that likes to make people think that their form of direct action (I.e. illegal, physical direct action) is the only form of action that will achieve animal liberation. These people are lost in a fantasy world fuelled by their own self-importance. A quick look at history will show you that any successful movement has required a diversity of tactics to achieve it's goals. Whether it be the Suffragettes, the Abolition of Slavery, the Civil Rights Movement or even Indian Independence.
This view is put forward by websites like Bite Back who have a monopoly on the definition of direct action and only post actions that are physical and illegal in nature. While it is important to create a forum for these actions to be shared so they can inspire other activists the severe lack of discussion on websites like this around what constitutes direct action furthers that divide between the "can do" and the "can't do".
We must make sure our movement is as broad and welcoming as it possibly can be  to ensure the greatest number of people can get involved. This means moving away from the idea that 'direct action' is limited to breaking into buildings, burning down meat trucks or chasing after hunts.  Direct action is the base level from which our movement grows. It is the foundation of any successful movement. Unless a majority of the population are engaged in direct action in some form or another we are destined to reformism not revolution and it is only a social revolution that will help us achieve animal liberation.